These are challenging and uncertain times for a lot of UK businesses. Ours too. Being a tech and telecoms company, we're privileged to have a front seat view of all the available tech to keep teams communicating with each other, and business operations running smoothly (even when remote).
Because we're on the road working with clients across the UK we also regularly work fully remotely.
Here are five tools we use every day to maximize connectivity within our team while minimizing our overheads.
3CX Phone System
3CX is the ultimate 'Work from home' communications tool. Many businesses throughout the UK already use 3CX for their office phone system. Instead of using expensive outdated landlines, 3CX enables businesses to make calls via their computer or softphone. The good news is 3CX has built in capabilities that allow teams to work remotely immediately as if they're in the office.
The 3CX app can be setup on your mobile in less than 30 seconds and enables you to do everything you'd do on your office phone system (including use the office number) straight from your mobile device.
3CX also has a web client which means you can use it from your chrome browser without having to download anything onto your staff's laptops.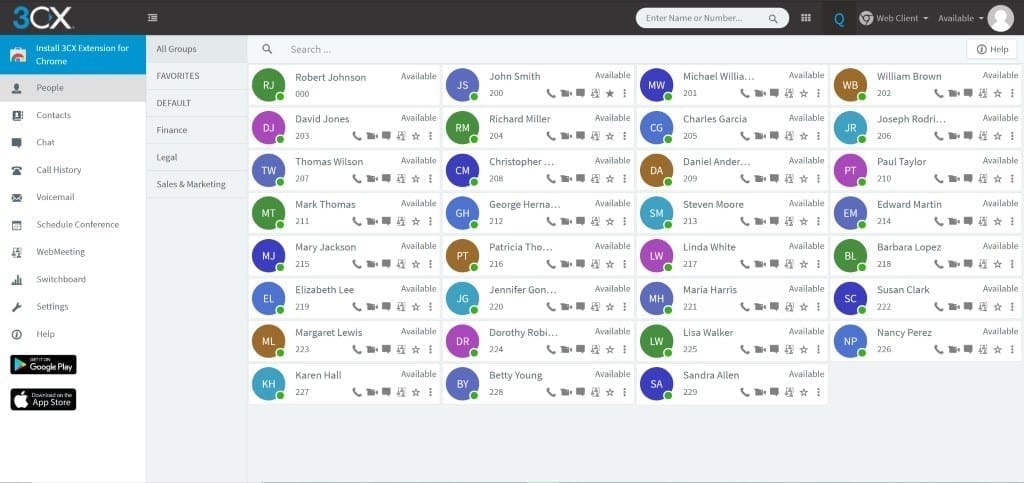 Not only do we use 3CX ourselves, we're a 3CX platinum partner and have set hundreds of businesses up with hosted 3CX systems. If your businesses needs 3CX or you know of a business that could benefit from it, give us a call. We can set you up remotely in a matter of hours, without the need to change your current phone system. All you need to do is divert your existing numbers to the new virtual numbers we provide on your hosted system and you will be up and running in a few hours.
We have reduced our 3CX setup fees by 50% and introduced monthly rolling plans to help businesses that have been hit hardest by this crisis.
Here are some of the highlights that make 3CX a great tool for remote teams:
Low-cost to run
Fully supported by us
See when your colleagues are on the phone
Video conferencing and webinar tools included
Works over the internet so location independent
Secure system with encrypted calls (via mobile apps and clients)
Microsoft Teams and Direct Routing
We use Microsoft Teams to share and collaborate on our internal documents, with Teams and Channels setup for our departments, customers, and suppliers. We invite our channel partners and customers to collaborate on our Teams, so we can keep our communication centralised and efficient by reducing the amount of email required. It makes a huge difference when you know a colleague has seen or read an update you have posted, instead of waiting for a traditional email response.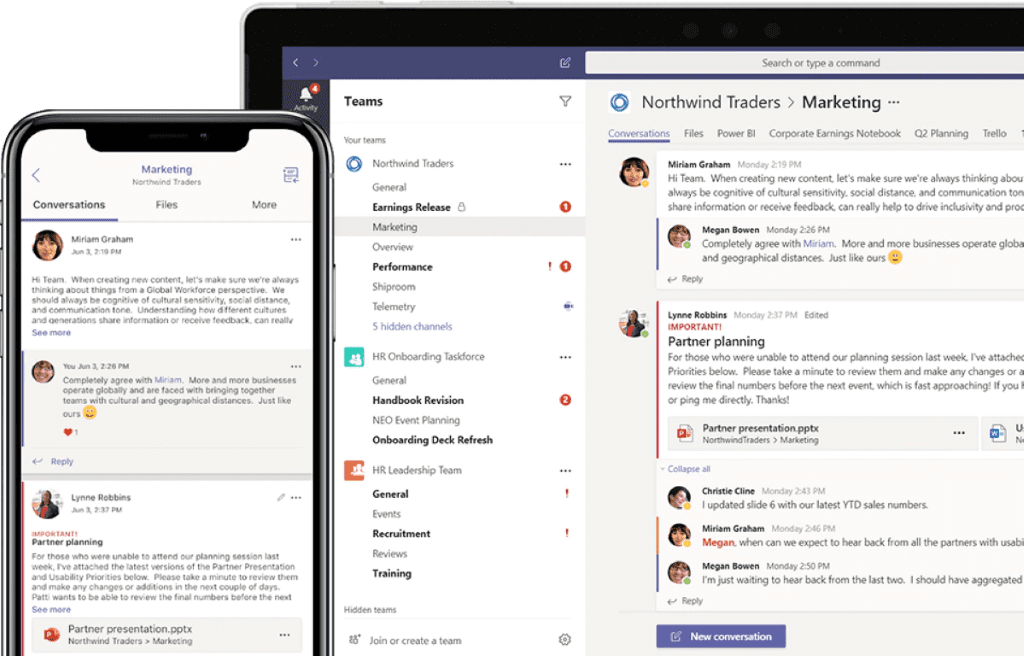 For companies with Microsoft Teams who also want to make calls outside the company while working from home, it can do that too. It just needs a direct routing system that connects Teams to the Microsoft Phone System so you can make calls to external numbers. As Teams gets more popular, so has our Direct Routing service.  
Here are some of the highlights that make Microsoft Teams a great tool for remote teams:
Integrated into your Microsoft Office applications
Share and collaborate live on documents
Video meetings and screen sharing
If you, or another business you know, needs help setting up Microsoft Teams for remote working please give us a call or ask them to contact us directly and we will be glad to help.
Monday.com
Monday is our cloud-based project management system. Internally we use it to manage everyday team tasks from sales, to billing and support. We also invite customers to access shared project boards when we need to collaborate on larger projects together.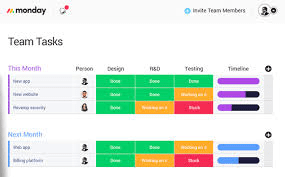 Using Monday keeps us together as a team no matter where we are and saves us so much time. With the ability to communicate directly on each individual task, add colleagues into conversations, assign tasks, set deadlines and create templates it is the ultimate project management tool that has transformed the way we run our business.
Loom
When we need to communicate information and training to our clients and colleagues we prefer to collaborate via Teams or jump on a call via 3CX. But when we can't do that, we use Loom. It allows us to record ourselves and the screen simultaneously and send it to each other to refer to when needed.
The best part about Loom is its basic plan is completely free. The number of videos you can create and store used to be capped, but it's now unlimited until July 1 in response to COVID-19.
Cisco Meraki Client VPN and Systems Manager (MDM)
For security even when operating remotely we use the Cisco Meraki stack to connect to our office so we can continue to manage our customer systems securely when working from home. With our Company devices all enrolled in Meraki Systems Manager this gives us the following streamlined security features:
Pushes Client VPN credentials to the device so we can securely connect to the office over a Virtual Private Network – this saves so much time for each user, especially if you have a large team.
Tracks the device and allows us to remote wipe it if it is lost or stolen.
Provides information on device health.
Prevents devices from joining the network if they don't meet certain security criteria.
We're here for you
We're committed to helping as many businesses as we can during this time. So please contact us if we can help you, or anyone else you know that could benefit from implementing these tools.