Yealink T53 VoIP/SIP Phone (SIP-T53)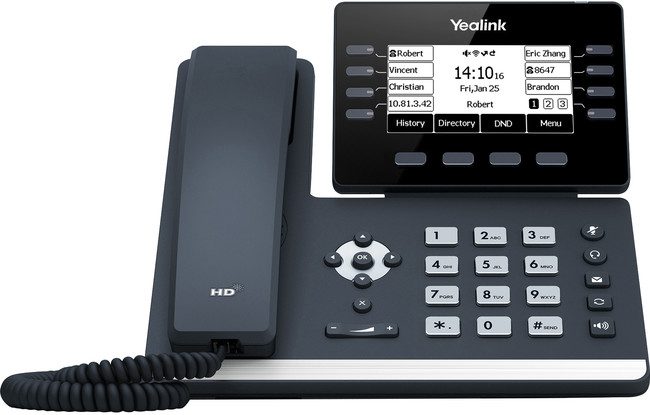 Order before 17:20 for sameday dispatch*
* If buying other items – earliest dispatch time will apply. Applies to next day UK mainland services only. Configuration services might cause delays – call.
Yealink T53 (3CX Router Phone)
12-Line Dual Gigabit PoE Greyscale LCD Yealink VoIP Phone
Note:
This phone does not come with a power supply or PoE injector, see the accessories tab.
The Yealink T53 IP handset is an easy-to-use Prime Business Phone with an adjustable 3.7-inch graphical LCD that allows you to easily and flexibly find a comfortable viewing angle according to personal and environmental needs. Compatible with the Yealink Bluetooth USB Dongle BT41 (sold separately) and Yealink WiFi USB Dongle WF40 (sold separately), the SIP-T53 IP phone ensures you will be able to keep up with modern wireless technology and the future wireless age. The built-in USB 2.0 port allows for USB recording or a direct wired/wireless USB headset and up to three (3) Yealink EXP50 expansion modules (sold separately). Benefiting from these features, the Yealink SIP-T53 is a powerful and expandable office phone that delivers optimum desktop efficiency and productivity.
Key Features
Can be used as a 3CX Router Phone (SBC) to connect up to 10 other handsets to your hosted 3CX system
Digital Busy Lights (BLFs) fully compatible with 3CX
3.7" 360x160-pixel graphical LCD with backlight
Bluetooth via BT41 (sold separately)
WiFi via WF40/WF50 (sold separately)
USB 2.0 port for USB recording, wired/wireless USB headsets and EXP50 (sold separately)
Dual-port Gigabit Ethernet
PoE support
HAC (Hearing Aid Compatible) Handset
Standard 2-year warranty
3CX Plug-and-Play Provisioning
The Yealink SIP-T53 VoIP/SIP IP handset is fully supported by 3CX, allowing it to be provisioned easily using 3CX's built-in Redirection and Provisioning Service (RPS) for Zero Touch Provisioning without requiring any complex manual settings. Note: before connecting your new handset to your local network, make sure your Yealink T53 firmware is correct by referencing the configuration guide for Yealink handsets here.
Yealink T53 vs T53W
The primary difference between the Yealink T53W and the standard T53 is that the T53W includes built-in WiFi and Bluetooth, whereas the T53 needs to be connected by an Ethernet connection. The T53 can be upgraded to support WiFi and Bluetooth via a dongle but this is sold separately. If you're looking for a handset with a colour screen you might want to consider the Yealink T54W.
Yealink T53 Datasheet
You can reference the T53 datasheet here.