Yealink CP920 IP Conference Phone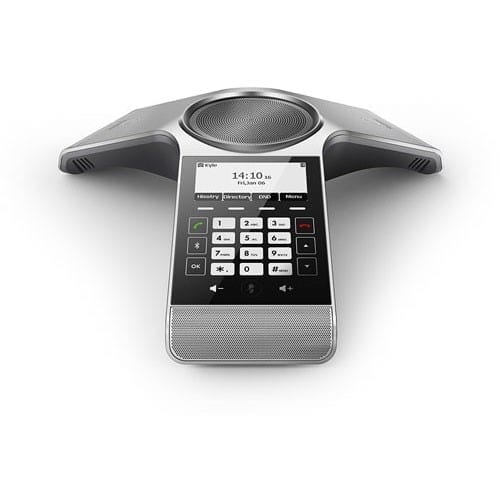 Order before 17:20 for sameday dispatch*
* If buying other items – earliest dispatch time will apply. Applies to next day UK mainland services only. Configuration services might cause delays – call.
Easy Conferencing, Clear Communication
Yealink designs its audio conferencing solutions to suit a range of different meeting environments. The CP960 and the CP920 address today's audio conferencing challenges and unify a clear-and-easy conferencing communication experience for both in-room and remote participants. The CP960 targets mid-to-large-sized meetings while the CP920 covers small-to-mid-sized meetings.
Pure and Powerful Sound Quality
Enterprise-grade and performance-oriented, Yealink conference phones deliver best-in-class HD audio quality for everyone in a meeting to keep pace with the team's collaboration and contribute inspired work.
Wide-range Voice Pickup, Dead-zone Free
Featuring 20-foot 360-degree dead-zone-free voice pickup, the coverage area of the CP960 and CP920 adapts to multiple room environments and provides a full sound experience.
By adding a pair of CPW90 wireless microphones (for CP960 only), participants within a large conference room can move freely and communicate clearly. The CPW90 ultilizes Yealink's DECT technology and HD voice technologies to optimize mobility and expand audio coverage area.
The CP960 supports star connection with up to 3 models of CP960, working together to meet super large meeting broadcast and voice pickup requirements.
Yealink Noise Proof Technology for Smart and Powerful Noise Elimination
Yealink's Noise Proof Technology frees business voice collaboration from annoying noise and optimizes conference efficiency by minimizing distractions. The Yealink Noise Proof technology includes two interrelated functions:
During a conference, Noise Proof reduces constant background noise from sources such as typing, air conditioners, etc.; and
When a person is not speaking, Noise Proof automatically mutes the mic(s) until the sound of a human voice is detected.